What to visit in Cusco? There are many alternatives to this question, but this time we will give you a new and sweet destiny, where you will learn a little bit more but, above all, you will live a new experience. Join us to learn more about ChocoMuseo, the chocolate museum in Cusco.
Chocolate Museum in Cusco
In the center of the city of Cusco, we have three boutiques (two ChocoMuseums and one chocolate factory) where you can live a fun and special experience. In our ChocoMuseos, you can learn the whole process of the chocolate manufacture and everything you need to know about the cacao bean, its cultivation and what kinds exist in Peru. In addition, you will learn its fascinating history since pre-Columbian times and its passage through the last centuries.  
But not everything is learning and discovering in Chocomuseo, you can also live fun experiences such as participating in the "bean to bar workshop" where you can prepare and take home your own chocolate made right from cacao beans, learning the whole process, or, the express and fast version in a "mini-workshop" where you can do it in a short time. In addition, at each boutique, you can enjoy a tasting of many products of ChocoMuseo completely free.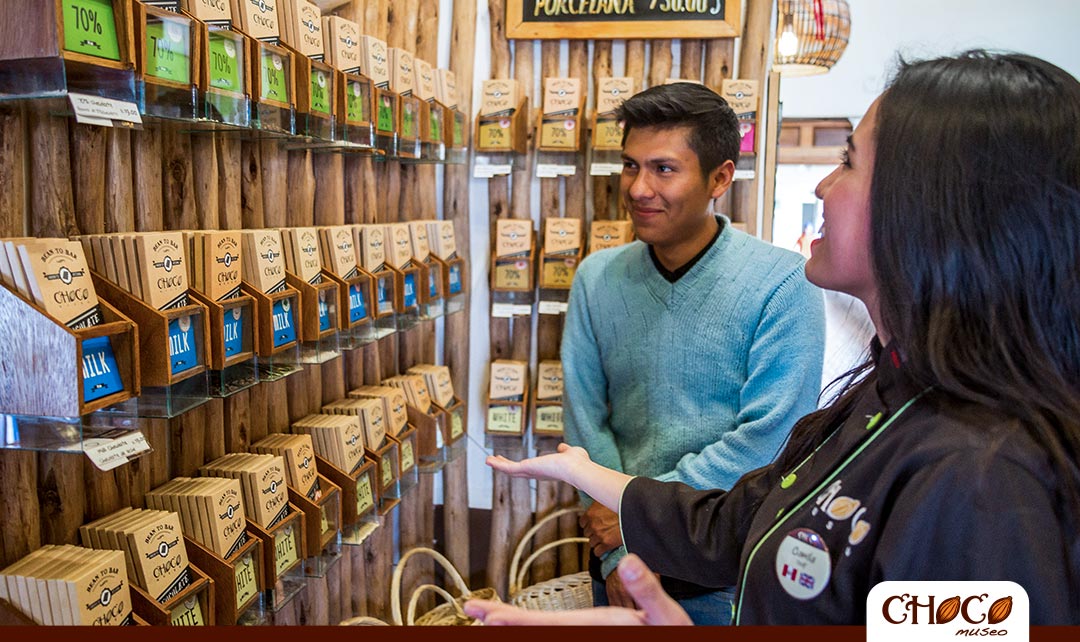 For the more adventurous, we have a plantation tour, where you will learn about cacao, coffee and other fruits of the area, two days of adventure and discovery in a villa in the Machu Picchu Valley.
If you like the exquisite Peruvian food and Pisco, we have some fun cooking classes where you will learn to prepare some dishes of the famous Peruvian cuisine; from shopping in the San Pedro market to enjoying a special dinner that you will have prepared yourself; as well as a delicious tasting where we will taste the mixture of flavors of pisco, chocolate, and Peruvian coffees.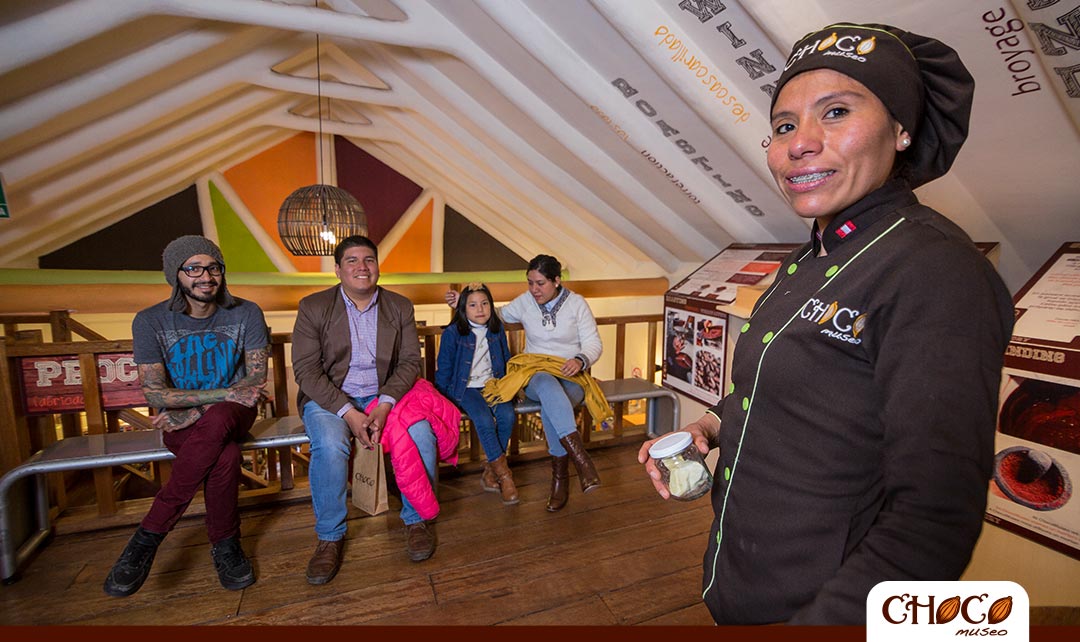 Visit our chocolate factory
One of the activities that can be done in Cusco and is one of the most enriching and fun is the chocolate factory tour. In the Regocijo Plaza -in the city of Cusco- stands the ChocoMuseo Chocolate Factory, a modern and at the same time handmade factory that processes a ton of organic cacao per month, becoming the delicious chocolates and other products that we find in all the ChocoMuseums in Peru.
If you want to live this exciting adventure and feel like Charlie in the Chocolate Factory, you can do it through our guided tour where you will see how chocolate is made, in addition to receiving an interesting explanation from our expert chocolatiers.